I. Love. Marshmallow. Fluff.
So much! It's so good. Now, I will admit, I never had a Fluffernutter sandwich growing up. I know, I know! So, how could I resist these Fluffernutter Cupcakes (recipe below from Peanut Butter & Jane)? I couldn't!

Cake is dense and thick, the top has a slight crunch, like the outside of a chewy peanut butter cookie. It tastes a lot like a chewy peanut butter cookie – the mini even more so.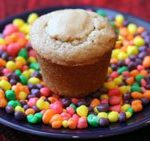 The peanut butter filling is like a peanut butter cookie dough, very malleable. Filling tastes like the inside of a Reese's Pieces – peanut butter and sugar.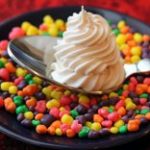 Frosting is a very light buttercream. It tastes like the buttercream on cupcakes you buy at the store, but better. It's very, very sweet, but with that hint of butter and fluff.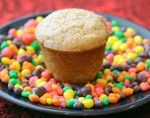 The balance in the full-size is better – the mini is fine, but it doesn't do the combination justice. Very strong peanut butter flavor, but, if you like Reese's Pieces, you'll love this. The fluffy frosting is very necessary to lighten the PB flavor a little. Because the cupcake is so ridiculously salty, the frosting is blown into a whole different realm of sweetness. Take the Reese's Pieces that you have hidden so your family won't find them and put some white frosting on top of it. Bam! This cupcake.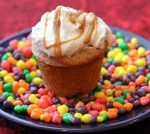 Notes: the PB taste is very strong in this one, so load on that frosting and go light on the filling!
Scoring Sheet:
Cupcake Taste: 3.5
Frosting Taste: 4
Overall Taste: 4.5
Appearance: 4
Ease of Making: 3.5 (3 parts, but pretty easy, and decoration is a cinch!)
TOTAL: 19.5
RECIPE
Fluffernutter Cupcakes (recipe from Peanut Butter & Jane)
Ingredients
for about 12 cupcakes – I think I made 15
1/4 cup butter – softened
1/2 cup creamy peanut butter
1 cup sugar
2 large eggs
2 teaspoons of vanilla
1 1/2 cups of all purpose flour
1 1/4 teaspoon of baking powder
1/3 cup milk
2/3 cup of marshmallow fluff
Peanut Butter Frosting
2 tablespoons of softened butter
1/4 cup creamy peanut butter
1 teaspoon vanilla
3/4 cup of powdered sugar
1-2 tablespoons of milk, if needed
For direction visit Peanut Butter & Jane.
*Tomorrow: Snickers Cupcakes*