Sorry for the delay in posting today, friends. I have a slight (aka incredibly painful) pinched nerve in my back and doing ANYTHING is a challenge today. But, alas, the cupcakes must go on! Besides, cupcakes make everything better right?!
So, in preparation for "the marvelous candy-filled holiday" (AKA Halloween) in 10 days , I give you the Snickers Cupcakes (recipe below from Making It with Danielle). But first, a musical treat to delight you! Now, onto the cupcakes!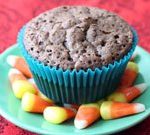 The cake is thick and brownie-like. Cake tastes a little like a brownie. Nice, sweet chocolate flavor – not too rich or dark.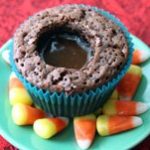 The filling is creamy and gooey. It's is a dark caramel flavor.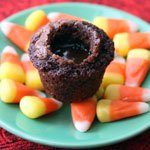 The frosting is really, really thick! I didn't need nearly 4 cups of powdered sugar! Frosting has a light, sweet peanut butter flavor. Shortening cuts the strength of the peanut butter so it doesn't overwhelm. And I don't really like frostings with shortening, so this one was doubly impressive.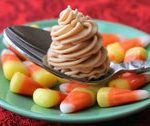 The overall flavor blends really well. You get a hit of each flavor – the chocolate, the caramel and then the frosting. The honey roasted nuts kind of threw it off though cause they're strong all by themselves and I didn't need an additional flavor. I actually prefer the cupcakes without either the nuts or the chocolate.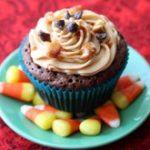 Note: the recipe calls to make the caramel by starting at high heat and lowering it. After trying it this way without success, I tried it the typical way – start at low heat to melt the sugar, then raise to high heat to brown the mixture. The Ease of Making score is based on only having to make it the 2nd way.
Scoring Sheet:
Cupcake Taste: 4.5
Frosting Taste: 4
Overall Taste: 3.5 (would be higher without toppings)
Appearance: 4.5
Ease of Making: 2.5
TOTAL: 19
RECIPE
Snickers Cupcakes (recipe from Making It with Danielle)
2/3 all-purpose flour
2 1/2 tbsp unsweetened cocoa powder
3/4 tsp baking powder
1/4 tsp salt
3 oz. chopped semi sweet Baker's chocolate
11 tbsp unsalted butter
3/4 cup plus 2 tbsp sugar
3 large eggs
1 tsp pure vanilla extract
Caramel
1 cup of sugar
2 tbsp water
2 tbsp light corn syrup
4 tbsp unsalted butter
1/2 cup heavy cream
1 tbsp crème fraîche
1/2 tsp pure vanilla extract
pinch of salt
Frosting
1/3 cup solid shortening
1/3 cup unsalted softened butter
3/4 cup creamy peanut butter
1 tsp pure vanilla extract
4 cups sifted confectioner's sugar
chopped salted honey roasted peanuts
For directions visit Making It with Danielle.
*Tomorrow: Cookies & Cream Cupcakes*